OmniSenseTM3D Ultra Sensing System
An all-in-one solution for mapping, localization and obstacle avoidance.
3D Environmental Sensing for Efficient and Accurate Mapping
Equipped with 3D high-precision lidar, with a detection distance of up to 70 meters and a 360° × 59° omnidirectional wide angle, A1 perceives environment in all directions and builds garden map instantly and accurately.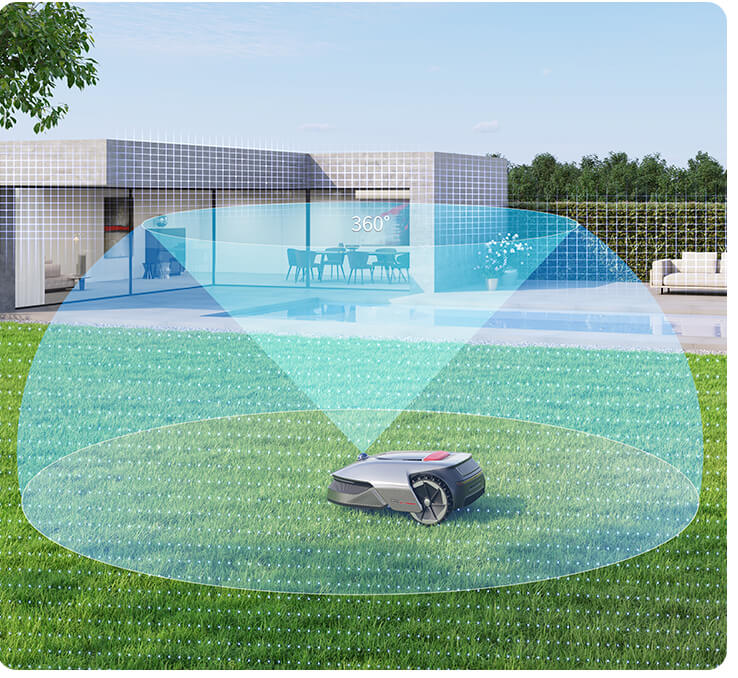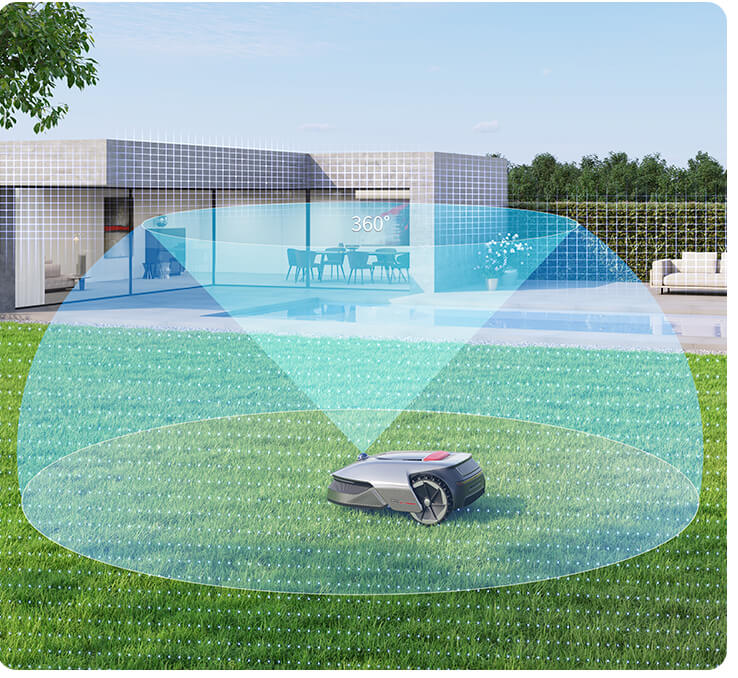 3D Omnidirectional Obstacle Avoidance
Powered by 3D omnidirectional obstacle avoidance technology, A1 can easily avoid 114 types of common obstacles. With environmental point cloud data acquisition technology and advanced AI algorithm, A1 intelligently identifies and avoids common garden obstacles, ensuring a safe and hassle-free mowing experience.
U Path Planning
The exceptional U Path Planning achieves highly efficient and uniform lawn mowing results. A1 easily tackles a 1000m² garden in just one day.5
Easy-to-adjust
Cutting Height
Just one-click setting via the App, and you can adjust the cutting height as you like.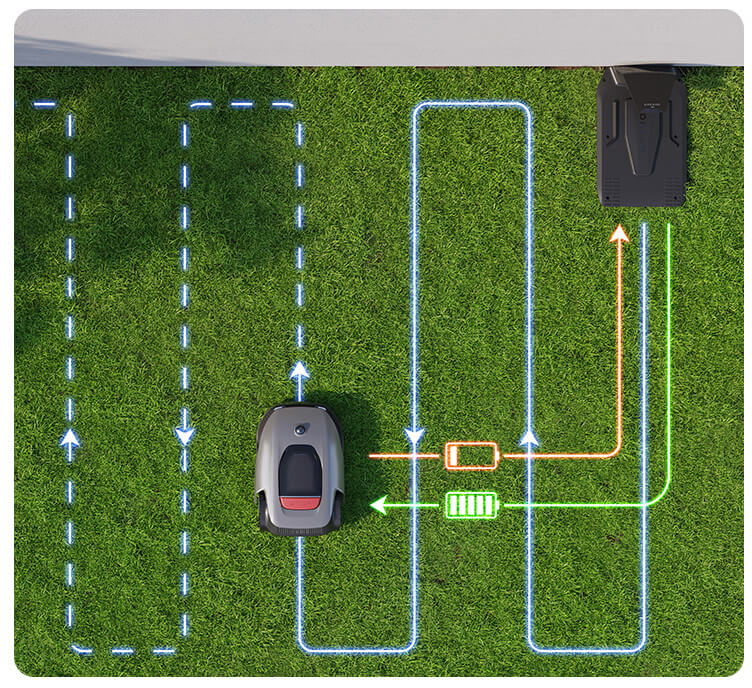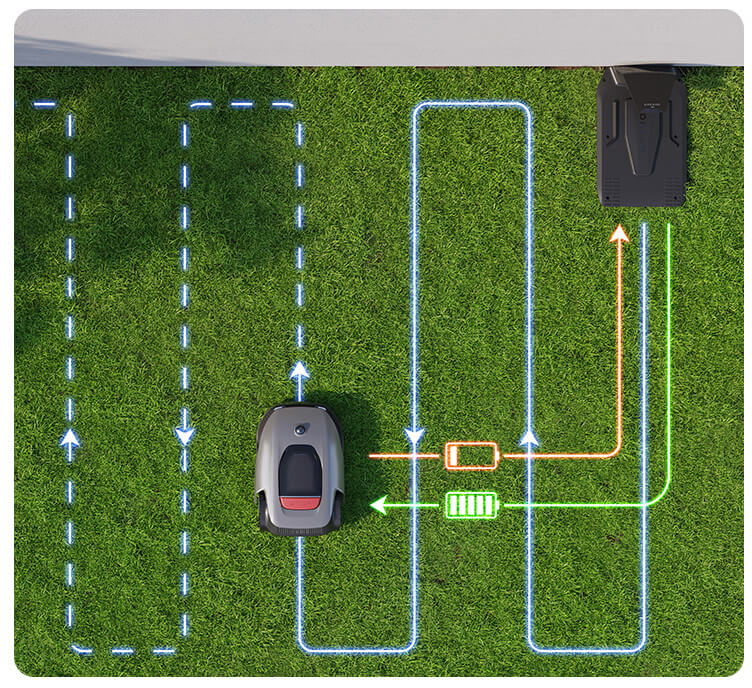 Continuous Mowing
It intelligently returns to recharge when low on power, and resumes mowing upon recharge, guaranteeing a meticulous and thorough lawn coverage.
Immersive 3D Map
Experience the brand new immersive 3D Map and explore your home in 360° at your will.
Effortless Map Editing
Effortlessly tailor the map to your needs using a variety of flexible map editing features.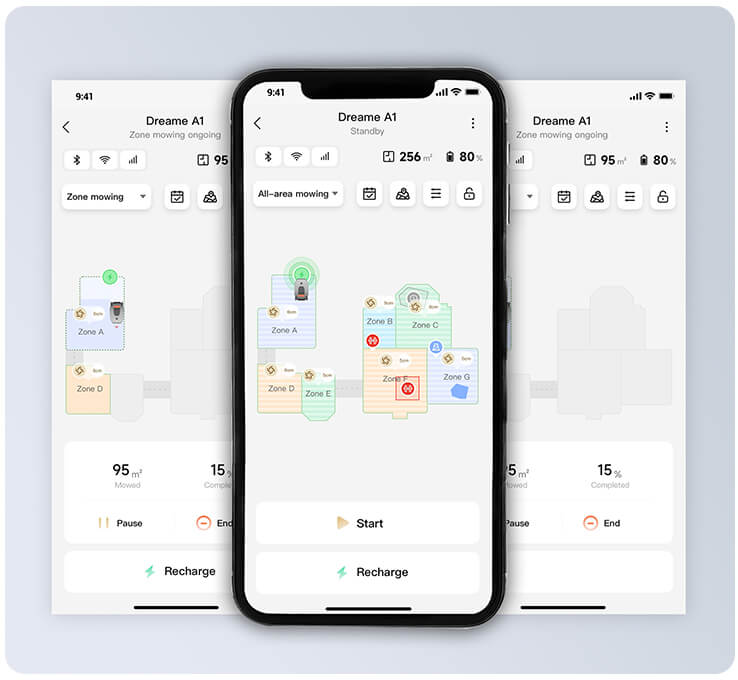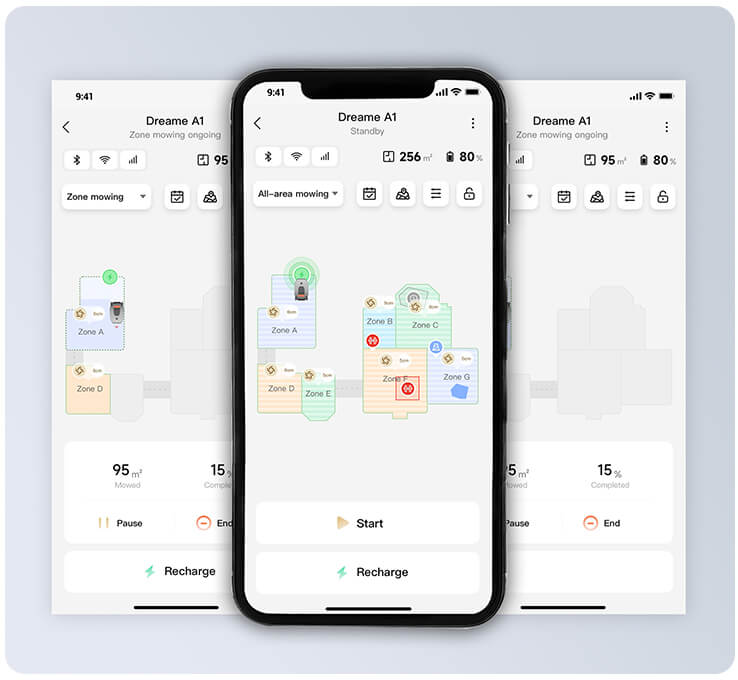 Convenient Mowing Modes
With All-area, Zone, Edge, and Spot Mowing Modes, A1 easily meets your diverse mowing needs.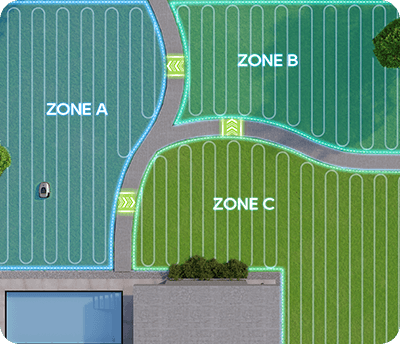 Zone Mowing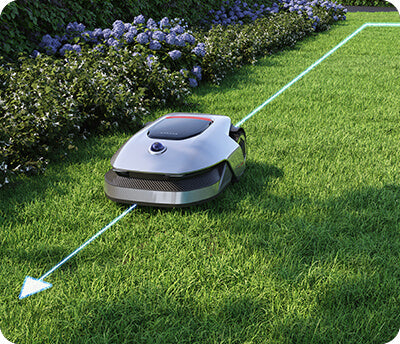 Edge Mowing
Spot Mowing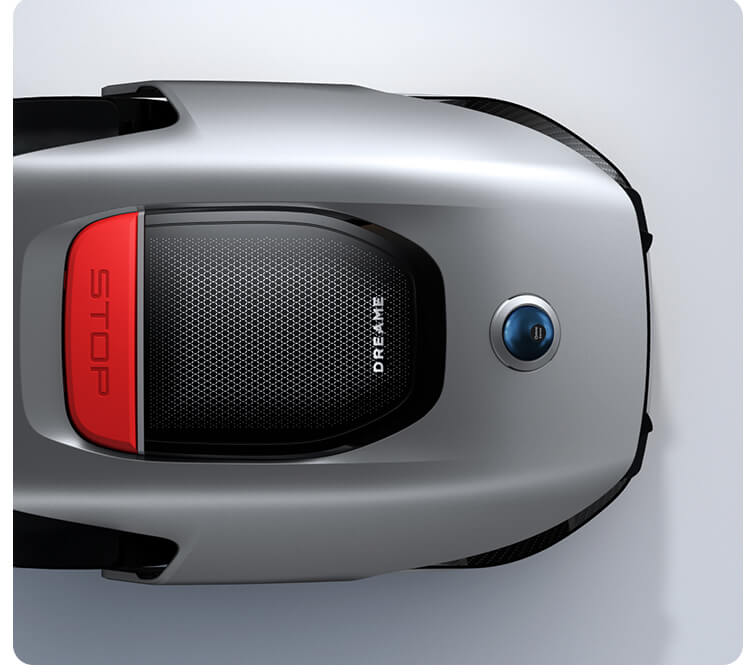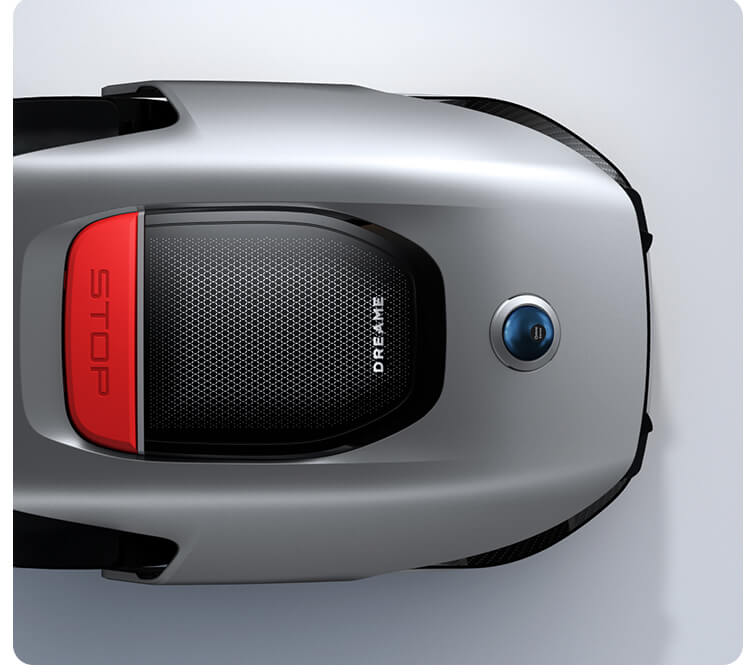 With the trendy top cover design, each touch ignites a spark within.
Rims are designed with a sense of order, showcasing extraordinary texture, and delivering exceptional performance.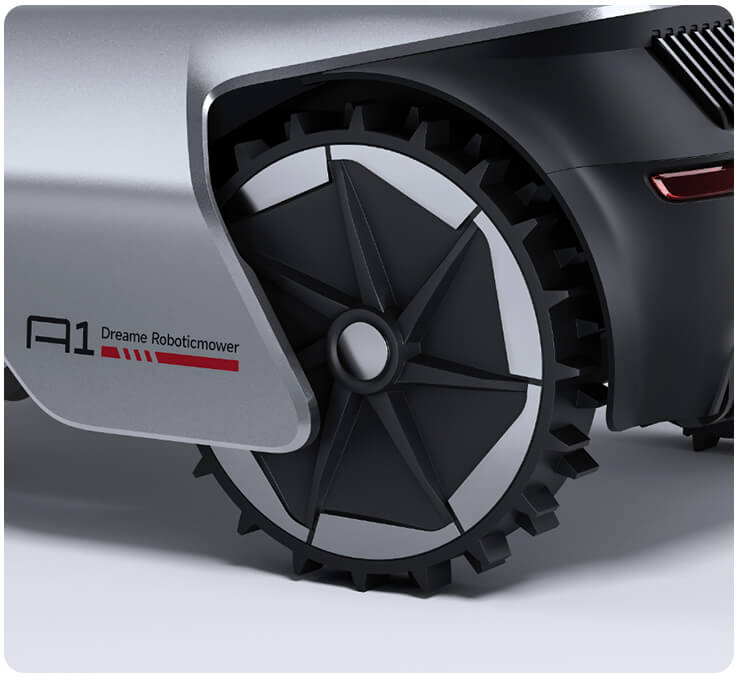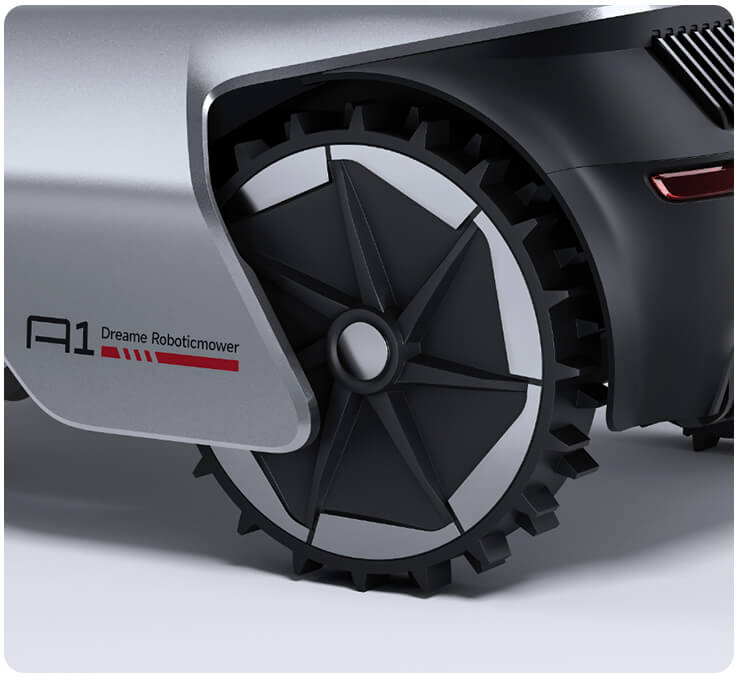 Specifications
Intelligence System
Boundary Setting
Wire-free
Navigation & Positioning
OmniSenseTM Ultra Sensing System (U path planning)
Obstacle Avoidance
OmniSenseTM Ultra Sensing System
Multi-Zone Management
Y
3D Map
Y
Mowing System
Applicable Mowing Area
2000m²
Mowing Efficiency
1000m²/day
Operating Modes
4
Continuity on Mowing
Y
Blade Configuration
22cm width
3-7cm height
Cutting Height Adjustment
Electric
Motion System
Slope Management
45%
Electrical System
Battery
5Ah
Charging Current
3A
Operating System
Display
Color Display
Operation
Jog Wheel & Keypad & App
Protection System
Waterproof Index
IPX6
1."Superior Mowing" refers to "Superior Mowing Experience". "Like Never Before" refers to that compared with traditional walk behind mowers and riding mowers, A1 needs no manual mowing and operations are easier. The boundary setting is simple and hassle-free compared with products requiring boundary wires, RTK or UWB.
2."All-in-one" refers to that A1 is combined with various functions including wire-free boundary setting, intelligent mapping, positioning and obstacle avoidance, logical cutting, automatic recharging and more.
3.Data is from Dreame laboratory. It takes A1 15 minutes to map a 1,000㎡ garden. Actual experience may vary depending on the garden environment.
4.Data is from Dreame laboratory.Common types of obstacles contain trees, pot plants, swing sets, rocks, fences, tables, chairs, footballs, toys, people and pets. Actual experience may vary depending on the obstacle shape.
5.Data is from Dreame laboratory. It takes 24 h of actual operating time for A1 to mow a 1,000 m² standard garden lawn. Actual experience may vary depending on the garden environment.